---
Ouachita County Communities and Settlements
One initiative of the Ouachita County Historical Society is ongoing research and data collection related to all the small census districts, unincorporated towns, and communities that have existed in Ouachita County since the county was formed in 1842. Community names colored dark gray can be clicked to access brief essays about those communities. Each essay gives a few historical facts about each community and others include narratives created by individuals who have memories of that community. Community and town names that are colored blue are still being researched. Take time to scroll further for old Nevada County Communities that were once in Ouachita County.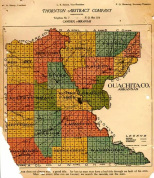 This early 20th century map of Ouachita County townships was published by Thornton Abstract Company when phone numbers were only single digits! You may access a printable .pdf file of this map by clicking the image.
---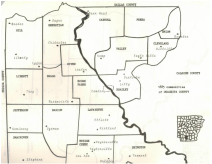 In 1885, Ouachita County looked a great deal different that it does today. This is a drawing of one the the earliest maps of the county. It depicts communities, such as Bear Head, that have been gone for many years.
---
OLD OUACHITA/NEVADA COUNTY COMMUNITIES
Thanks to Jerry McKelvy for submitting the articles in the right-hand column that describe communities which were once part of Ouachita County (before 1871) and are now part of Nevada County. These community descriptions were taken from articles that appeared in Nevada County newspapers. Most were written in 1906 and one in 1913. About half of what is now Nevada County was in Ouachita County until 1871 when Nevada County was formed.
There is a map with each article showing each community's location.